Hridaya Silent Meditation Retreat
3-day option:
August 26 – 29, 2021 (in English)
5-day option:
August 26 – September 2, 2021 (in English)
A deep immersion into the power of Stillness. Allow yourself some rest from the constant business of the mind and connect with your true sense of Self, in the Heart.
This very special retreat is an introduction to and deepening of the awareness of our true essence. Observing mauna, noble silence, you give your mind the opportunity to quieten down. In this Stillness, the simplicity and beauty of the state of pure Being, beyond thoughts and temporary emotional conditions, becomes more intimately felt.
During the retreat, you will be guided through various silent meditation techniques, most prominently the method of Self-Inquiry as taught by Indian sage Ramana Maharshi. This method has also been called the "direct path", as it leads directly towards the core purpose of any yoga practice, the blissful revelation of the universal truth of Oneness – not as an intellectual idea, but as direct experience.
For the duration of the retreat, participants commit to observe complete silence: abstention from speech, gestures, eye and body contact, reading and use of electronic devices.
The meditation practice is supported by a daily asana (yoga postures) practice in the meditative Hridaya Hatha Yoga style. Extensive information about the details and metaphysical background of the practices will be shared by the teacher in form of lectures and recital of inspirational poetry.
Participants are allowed to ask upcoming questions in writing. These will be answered by the teacher in a daily Q&A session.
The retreat is carefully designed to provide a loving frame for deep introspection and self-discovery. It is strongly recommended to attend the full length of the retreat with five full days of practice. For those who can't or don't wish to commit for the full retreat, 3-day option is also available.
Daily Schedule:
Participants are asked to join all sessions in their full length.
6:30am: Wake up
7-9am: Silent Meditation – this practice will first be broken down in shorter segments and gradually build up to one continuous meditation
9-9:30am: Breakfast
9:30-10:30am: Lecture
10:40am-12:30pm: Hridaya Hatha Yoga practice
12:30pm-1pm: Meditation
1-3:30pm: Lunch break
3:30-6:30pm: Silent Meditation – this practice will first be broken down in shorter segments and gradually build up to one continuous meditation
6:30-7pm: Self-guided practice
7-7:45pm: Dinner
7:45-8:15pm: Q&A
8:15-9:30pm: Introduction of special meditation technique and practice
10pm: Lights out
Accommodation
We will be camping on a small clearing bordering lush forests, undisturbed by noises and pollution. Our engaged team will pamper you with delicious vegetarian meals prepared with love, and optional massage & body-work sessions (not included). Read more about location
We provide equipped cotton tents. You can choose between a small, simple tent just with a mattress and bedding, and a more comfortable 3-meter bell tent that is furnished with a queen size mattress, bedside table and reading light.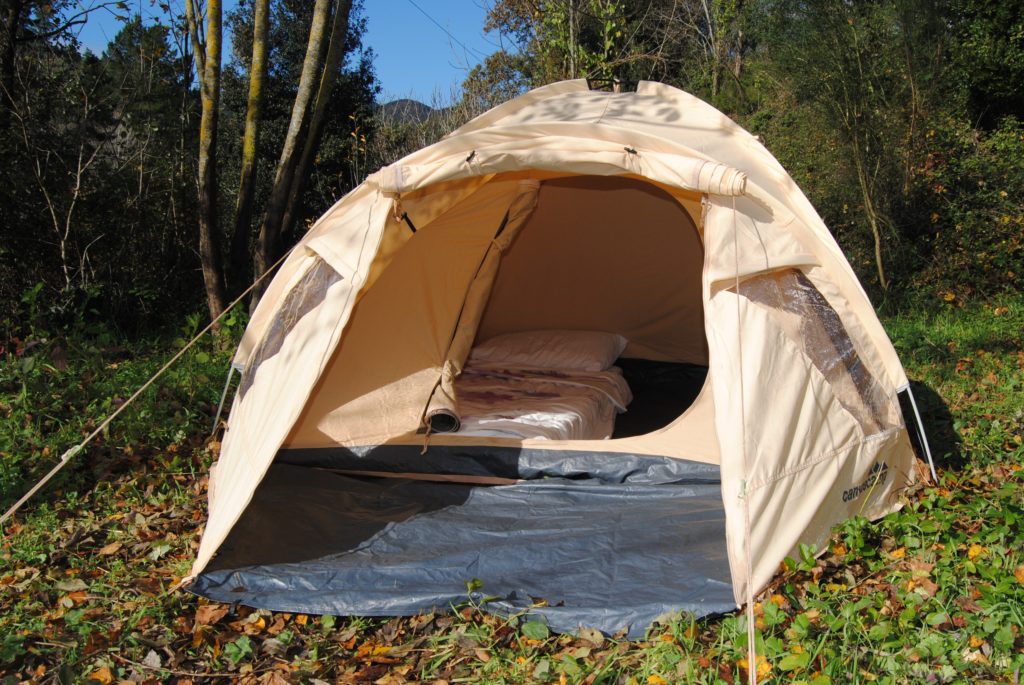 Rates
5-day option:
Simple Canvas Tent, 1 person: 365€
Comfort Bell Tent, 1 person: 425€
3-day option:
Simple Canvas Tent, 1 person: 275€
Comfort Bell Tent, 1 person: 315€
Rates include:
Over 10 hours of high-quality meditation and yoga instruction and practice per day
6 nights accommodation in equipped tents (4 nights for 3-day option)
Pick-up at Sant Celoni train station on arrival day at 4pm (read more about getting here)
3 delicious vegetarian meals per day
Unlimited herbal teas and water
Membership in the non-profit association TierraLuz for the current calendar year
Bookings:
For inquiries and reservations, please feel welcome to contact us.