5-day option:
July 8 – 12, 2021 (in English)
July 15 – 19, 2021 (in Spanish)
August 19 – 23, 2021 (in English)
7-day option
Julio 8 – 14, 2021 (in English)
Julio 15 – 21, 2021 (in Spanish)
Agosto 19 – 25, 2021 (in English)
Practice yoga as it is meant to be. Spend a week in joyful simplicity, in direct contact with nature in its purity.
During this retreat, you will be gently guided to open your Heart through classical Hatha Yoga practice and various silent meditation techniques. Read more
We will be camping on a small clearing bordering lush forests, undisturbed by noises and pollution. Our engaged team will pamper you with delicious vegetarian meals prepared with love, and optional massage & body-work sessions (not included). Read more about location
Expect a profound reset from the stress of modern life, settling back into a natural state of well-being and happiness.
We will do everything possible to have you depart with a truly shining heart!
What you can expect:
High-quality yoga teachings from instructor with more than 10 years of practical experience
Unique yoga practices taking you deep into the spiritual dimension of yoga & meditation: Self-inquiry; the significance of the Heart; chakra-centered asana (postures) practice; pranayama (breathwork); deep relaxation
Fascinating lectures about the theoretical and metaphysical background of yoga – you will not only practice, but also understand why you are practicing and learn how to design your own practice according to your specific needs!
Beautiful setting in the midst of an endless forest conducive to resting back into an inner sense of quietness and peace
Delicious and healthy vegetarian food (vegan option available)
A dedicated team always present to help you make your stay more enjoyable
Daily Schedule:
All sessions are optional.
6:30 am: Wake up
7-8 am: Silent meditation
8:15-10:30 am: Hatha Yoga session, including a short presentation of a yoga technique
10:30 am: Breakfast, free time: walk in the forest, read a book, get a massage (not included), lend a hand in the garden…
2 pm: Lunch
4-5 pm: Lecture presentation on different aspects of yoga practice: Basic yoga metaphysics; the Chakra system; the spiritual significance of the Heart; Self-Inquiry…
5-7 pm: Hatha Yoga & Meditation
7 pm: Dinner
8 pm: Evening activities: Heart Chakra Meditation, Movie Night, Kirtan,…
We will suggest to spend one day of the retreat in complete silence (no speaking except for class instructions and lecture).
Accommodation
We provide equipped cotton tents. You can choose between a small, simple tent just with a mattress and bedding, and a more comfortable 3-meter bell tent that is furnished with a queen size mattress, bedside table and reading light.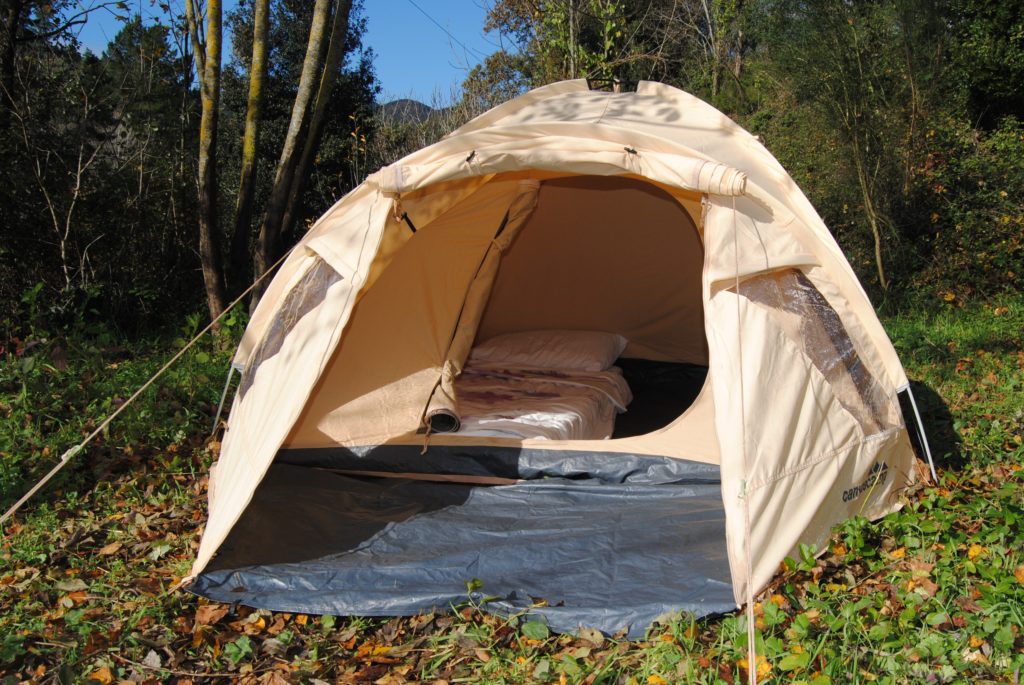 Rates
7-day option:
Simple Canvas Tent, 1 person: 375€
Comfort Bell Tent, 1 person: 435€
Comfort Bell Tent, 2 persons: 786€
5-day option:
Simple Canvas Tent, 1 person: 255€
Comfort Bell Tent, 1 person: 295€
Comfort Bell Tent, 2 persons: 534€
Rates include:
Over 30 hours of high-quality yoga instruction and practice
Evening activities
6 nights accommodation in equipped tents
Pick-up at Sant Celoni train station on arrival day at 4pm (read more about getting here)
3 delicious vegetarian meals per day
Unlimited herbal teas and water
Membership in the non-profit association Tierra Luz for the current calendar year
Reservation
For inquiries and reservations, please feel welcome to contact us.